A summary of the presentation
duration: 2 o'clock 30 min
schedule: departure 24 June 2022 at 23:30
Firework: watching fireworks from the ship at the festival "Scarlet Sails"
Start the fireworks: 00:40
Departure: berth "Anichkov bridge"
Route: the Neva River
motor ship: single-deck
Aboard: a toilet
Our advantages
A discount: when you buy with discounts up site 10%. Additional discount on the promotional code more in promotions and discounts. The discount is calculated on the cost of the ticket at the dock.
E-ticket: after buying a ticket, a message with your order number is sent to your phone and email. By this order number you will receive your boarding pass at the ticket office on the pier.
each gift: When buying a ticket a free walking tour of St. Petersburg (see more)
buy a ticket
?
Discount ticket:

7390 rub
(on the pier 7500 rub)
?
children's tickets:

4890 rub
(on the docks of 5000 rubles)
?
Children under years:

is free
On a night walk in the holiday "scarlet Sails"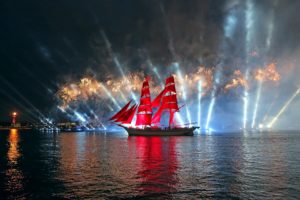 Dorogen friends! Citizens and guests of the city! In love with life and beauty! Food lovers of pleasure and joy!
Buy ticket for the alumni celebration 2022 "Scarlet Sails", you can on our website. There is nothing easier, than take a leap in time and see the Leningrad Alexander Grin, together with the frigate, dressed in scarlet sails of hope! Travel through time and space with the firm NEVA RIVER possible. A truly St. Petersburg-Petersburg-Leningrad holiday Scarlet Sails in this 2022 with us on board the ship! Where better to watch this grand, no matter what do not like the music and light show? Of course, with water. Of course, on the boat your trip will be unforgettable! On the ship to buy a ticket right now in St. Petersburg, you can smooth a few hand movements. For, to become a spectator of the holiday "Scarlet Sails", it is necessary to repeatedly press the tablet buttons, computer or phone. And now the great miracle of human genius in the form of a holiday on the Neva with scarlet sails comes into your life with the ticket, purchased on our website. St. Petersburg and the "Scarlet Sails" – pearl white nights of summer, that in late June, feast for the eyes of thousands of visitors. A ticket to the festival in St. Petersburg – It `s that, we help to buy all the romance and aesthetes! Hurry! Seats on ships, boats, ships, courts is very limited in this divine night!
TICKET on the boat in the festival "Scarlet Sails" – SKIP THIS HISTORY!
Salute to alumni celebration "Scarlet Sails"
Light and fireworks show in the Neva River will start in 00:40. At the same time in the performance of the symphony orchestra will be heard over the Neva tunes from about future movies and brand new music, written specifically for the holiday. The culmination of the most romantic night of the year will be the appearance of the brigantine under crimson sails. Traditionally, in the role of a ship novel by Alexander Grin speak Swedish sailboat «Tre Kronor».
Comments, reviews, suggestions
Your assessment of this tour
Share with friends
Other thematic route along the rivers and canals of St. Petersburg
---

Flight duration: 50 i am 1 time 10 minDeparture from berths: Senate marina, Palace pier, Rumyantsev descent, Zimnyaya ditch,...