Flights to open bridges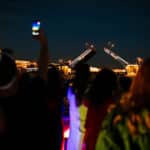 The bridges in St. Petersburg – a spectacle which has long been one of the key brand of night life in St. Petersburg in the summer season. The bridges in St. Petersburg trying to see all the guests of the Northern Venice, arrived in St. Petersburg for more than one day, regardless of age and social status. Each guest of St. Petersburg may have its day program, does not intersect with other guests of our city, but the white nights and movable bridges are combined into a single space different itineraries and programs.
Where can I see the divorced bridges?
The bridges in St. Petersburg can be observed standing on the waterfront, and from the boat. You can easily walk from one bridge to another divorcing, and it is possible from one bridge to another distributing go on the tour bus. The bridges in St. Petersburg can be seen from the window of a car or rent an individual walk through the night on a boat Neva.
What is a trip to the bridges you can buy?
A possible combined bus and boat? Yes, and it is also possible!!!
The official website of "Neva River" you can buy tickets online on a night tour bus + ship with the ability to view the bridges from the boat. individual route – It `s that, that will remain in your memory for a long time about the night Petersburg. You can always request a personalized route through the contact form on our website or by phone +7(812)928-28-16.
On what schedule divorced bridges in St. Petersburg?
The bridges in St. Petersburg takes place on schedule, but there are always exceptions. Engaged in the maintenance and breeding of bridges in St. Petersburg company "MOSTOTREST", to keep track of current information on changing the bridges in St. Petersburg advised to visit their official website https://mostotrest-spb.ru/
Bridge drawing schedule 2022 year
Bridge
River
Stopping traffic
Beginning of navigation in the drawbridge
End of navigation in a draw span
Opening up traffic
Volodarsky
Neva
2:00
4:15
2:10
4:25
3:40
5:40
3:45
5:45
Alexander Nevsky
Neva
2:20
2:30
5:05
5:10
Bolsheokhtinsky
Neva
2:00
2:10
4:55
5:00
Casting
Neva
1:40
1:50
4:40
4:45
Trinity
Neva
1:20
1:45
4:45
4:50
Palace
Bolshaya Neva
1:10
3:10
1:35
3:20
2:45
4:50
2:50
4:55
Annunciation
Bolshaya Neva
1:25
3:10
1:35
3:20
2:40
4:55
2:45
5:00
Tuchkov
Malaya Neva
2:00
3:35
2:10
3:45
2:50
4:50
2:55
4:55
Sampsonievsky
Big Nevka
The bridge is drawn from 1:30 to 4:30 by prior request 2 days.
Grenadier
Big Nevka
The bridge is drawn from 1:30 to 4:30 by prior request 2 days.
Kantemirovsky
Big Nevka
The bridge is drawn from 1:30 to 4:30 by prior request 2 days.
exchange
Malaya Neva
FROM 9 October 2021 the bridge is closed for major repairs