Schedule and prices meteors to Peterhof
The timetable depends on the load and the weather conditions can change, to obtain accurate information on the next flight for today or any other day – You can look at page ticketing.
Timetable to Peterhof Meteora in May and September
An important role in the preparation of timetables meteors playing a month and day of the week. During the low season (May, September) meteors schedule from St. Petersburg to Peterhof is an interval between flights 1 time, weekend meteors start on schedule every 30 min. In high season meteors schedule change, and they are starting every 30 min, and the weekend pass to the schedule of the flights to Nizhniy parkas Peterhof almost as public transport and the interval is 15 min. meteors schedule is so, to the first flight on weekdays launched in 10.20(10.30), and the last flight scheduled to Peterhof stood on 14.20(14.30). This schedule of flights on our website is important for flights, starting in the week in May. On weekends, flight schedule meteors to Peterhof adds flight to 9.50 (10.00).
Timetable to Peterhof Meteora in summer
The schedule of flights to Peterhof on the meteor in high season (June, July, August) first flight is added on weekdays 9.50(10.00), meteors and schedule changes on every movement interval 30 min. this type of Schedule meteors in Peterhof valid until the end of August. Logistics flight schedule has been planned, to the sudden and unexpected increase passenger flow berth administration could reduce the interval between flights without inconvenience to passengers, who bought tickets in advance via the website.
Flight Schedules from Peterhof to St. Petersburg in 2023 year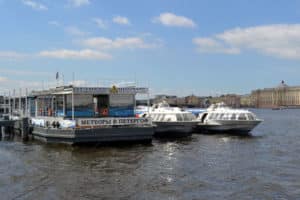 You can also read schedule meteors of Peterhof in St. Petersburg. The timetable meteors Peterhof also, as in Peterhof, It has a well-built logistics. If you've already watched schedule flights to Peterhof, it drew attention to the fact, that last flight to Peterhof Meteora starts in 14.30, since the main flow to 13-14 the clock stops, but because after 15 hours are activated Flights meteors from Peterhof. It begins active export of travelers from the Lower Park in St. Petersburg. And filled meteors scheduled every hour going in the opposite direction. For, you to understand, It is scheduled timetables meteors from Peterhof below we give a clear example of.
The flight schedule meteors you noticed, it ships in the first half of the day will start at Peterhof, but because Peterhof scheduled meteors start walking only after 14 hours and at the same time in the schedule vanish flights from St. Petersburg. Everything is very simple. Morning meteors are taken one by one to Peterhof Scheduled everyone to get water routes. For, to withstand schedule meteors weekday traffic day in low season (each hour) required 5 meteors, that will make one flight to Peterhof and stay there at anchor waiting for flights from Peterhof, which are scheduled to begin flights 14.30.
Reversed meteors scheduled also make one flight. By increasing the amount of flow of the passenger flights increases each meteor, and in the schedule to Peterhof meteors can appear after flights 14.30. We are thinking, you guessed it thereby, increasing the number of flights in the schedule meteors from St. Petersburg.
option – It is further exposed when backup meteor, but this option is rarely used, as the shipping company ships practicing the method routine prophylaxis. meteors, which are not on the schedule for the day, in reserve on prevention.
option, wherein meteor standing first in the schedule to Petergofa, arriving at Peterhof, and landed on the quay of people does not get anchored, and returned to St. Petersburg and makes an additional flight on 15.30. Accordingly, information on additional flights online schedule can appear only on the fact of the day, when it is clear the situation with the number of people willing to go to Peterhof Meteora.
option, where each meteor makes several flights to Peterhof and back. Accordingly, in this case the number of flights in the schedule to Petergofa doubles.
Similarly, the circuit operates for flights from Peterhof. If in St. Petersburg increased number of people willing to get to Peterhof Meteora, the, As in the first case, meteor comes to Peterhof and go back. Accordingly, the flight schedule of Peterhof first flight will not be in 14.30, and e.g., at 11.30. Since the first meteor, which starts on schedule from St. Petersburg to Peterhof, at 10.30 It comes in lower park of Peterhof to 11.00-11.10. After dropping off passengers, it is ready to start from the back Petergofa Petersburg, in this case, and there are additional flights from Peterhof to St. Petersburg in the schedule. Respectively, if the next meteor returned to St. Petersburg, it is mainly the schedule there is one more additional flight from Peterhof, which starts before the main schedule, approved by the entire navigation. We hope, More information about the schedule of meteors movement in Peterhof and back will be helpful.
Pressing View the schedule of meteors in Peterhof, you can not only choose the most convenient time for you meteor flight to Peterhof, but also buy a ticket for a meteor online, without leaving home.