Brief information on the tour
duration: 1 time 45 min
schedule: every 25 minutes
Route: Bolshaya Neva - r. Fontanka - Kryukov channel - p. Moika - Winter groove - Bolshaya Neva
motor ship: motor ships of the Fontanka class. There is a closed lower salon and an open upper deck (ship capacity - up to 50 pers.)
Language trips: tour in Russian, accredited guide
Aboard: a toilet, microphone
buy a ticket
?
Discount ticket:

990 rub
(on the docks of 1000 rubles)
?
children's tickets:

690 rub
(on the docks of 700 rubles)
?
Children under 5 years:

is free
on tour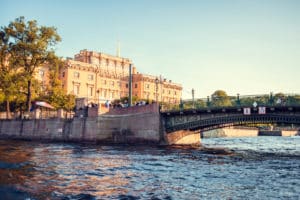 INattractiveness overview tour of the historic chamber and Ceremonial Petersburg. Passing along the granite embankments, where the palms are beautiful creations of human hands; ensembles bridgehead area, infinite variety of crossings over small large rivers and canals, heart – Peter and Paul fortress, temples, arrow VO and more.
We have time to consider the most famous sculpture of a small town Siskin, Fawn, fanned by myths Mikhailovsky Castle and more.
Description of the route
Our ship will depart on a journey from the quay Winter Canal on Palace Embankment. Going up the broad affluent beauty Neve
In the grand ensemble VO Arrows. razvernemsya in Kronvreskuyu Strait, and you will be able to consider the first urban complex Petersburg PPK from an unusual angle, from the back not the front part. Walking along the duct Kronverskoy see the famous all over the country Arsenal , which 200 years and remember , that within these walls operates Europe's largest museum of engineering troops, communications and artillery troops.
On this small body of water 2 wooden bridge on pile foundation, that is an exceptional rarity in the modern city. Pile on the St. John bridge sits a very popular Bunny Arseniy monument of architecture of small forms. that collects daily tons of metal and fulfills the desires.
Along the Trinity Bridge shall proceed in Fontanka, where you can see the architectural masterpiece 18 in the lattice of Summer Garden. Of Fontanka in Panteleimon bridge we turn around and came very close to finch-Pyzhik, St. Petersburg folk hero, incarnated in bronze Rezo Gabriadze in 1994 and is very popular.
Next is the fourth excursion duct will open us their strict embrace of River Moika. Initially, it is famous Ceremonial and aristocratic buildings, part of which we will see. It Mikhailovsky Castle, legends and myths.
field of Mars, where they spent sometime parades and parades in the capital of the Russian Empire and the ancient St. Michael forever beautiful garden with pavilion, a masterpiece of the architect Carlo Rossi. Bright high-altitude dominant over us swims Savior on the Spilled Blood.
For the Stables Office recall the AS. Pushkin, it is here in the house 12 on the Moika River spent the last months of his life the great Russian poet. Archways of stone bridges lead us on the Winter Canal to the starting point of the journey.
Before us again Neva and the Hermitage building, where we are with you, and forgive.
sights
Peter-Pavel's Fortress .
Kronverskaya duct.
arsenal.
hare sculpture at St John Bridge.
The Marble Palace.
Trinity bridge.
Summer Garden Grille.
Aurora.
foundry bridge.
laundry bridge.
Summer garden.
Art and Industry Academy of Baron Stieglitz.
Panteleimon bridge.
Chizhik – young deer.
Mikhailovsky castle.
Mikhailovsky Palace.
Mikhailovsky Garden.
field of Mars.
Savior on Spilled Blood.
Bolshaya Konyushennaya Office.
round market.
Washing 12 (AS Pushkin Museum).
Pevcheskiy bridge.
Palace Square.
The General Staff building.
Zimnyaya ditch.
Millionnaya street.
Hermitage gallery.
He Arrows VO.
Comments, reviews, suggestions
Your assessment of this tour
Share with friends
Other day trips on the rivers and canals of St. Petersburg
---

duration: 1 time 20 minDeparture: daily Departure berths: Senate marina (English nab.2 Bronze Horseman), English pier (English Embankment 28 Wedding Palace), Sevkabel ...